May 12-14 2017 | Midland, TX | USA
May 12, 2017

-

May 14, 2017

FREE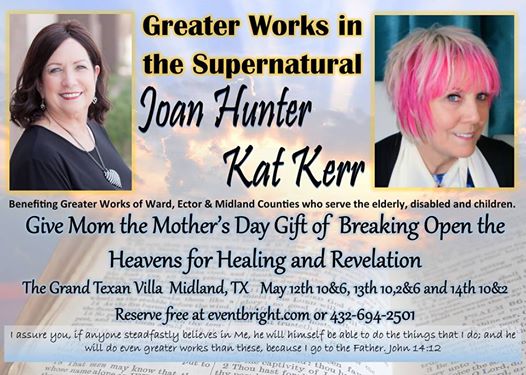 Joan Hunter & Kat Kerr Greater Works in the Supernatural
May 12, 13 & 14 2017
For FREE entry – registry on Eventbrite required
See details below
REGISTRATION: https://www.eventbrite.com/e/joan-hunter-kat-kerr-greater-works-in-the-supernatural-tickets-32261618369?aff=es2
The organizer has rooms with all the amenities reserved at The Grand Texan for a reduce rate for the weekend.
Reservations must be made by May 5th.
Must mention name of event "Joan Hunter & Kat Kerr Greater Works in the Supernatural" for discount pricing.
Rooms are available inside for $80+ tax and outside rooms $70+ tax USD.