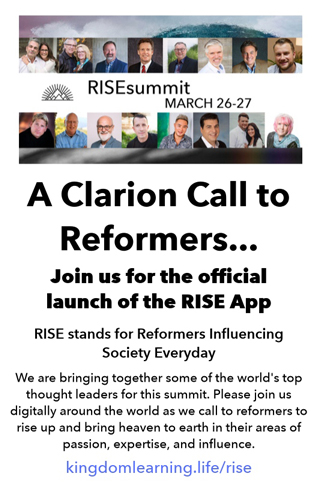 Join the global community of all ages and all walks of life through the launching of our RISE app at the RISEsummit March 26-27.  We lead with love and are motivated by hope and infused with faith to find tangible solutions for individuals, cities and nations. Find your community at the RISEsummit by joining  either in person in Bend, Oregon or digitally from around the world.
Register today at:
Invitees – Presenters: Johnny and Elizabeth Enlow, Bill and Beni Johnson, Bobby Haaby, Kat Kerr, Lance Wallnau, Tim Sheets, Nate Johnson, Christy Johnson, Chris Reed, James Goll, Steve Schultz.  Chris Kuehl – COO of Restore7 and Justice Enlow hosts/emcees.
RISE Summit: A Clarion Call to Reformers
Digital Pass:  $69.00
RISE Summit is for those who want to be a part of a global community of reformers who are focused on bringing heaven to earth through practical expressions of love and solutions to the broken culture around us.
Now, this is NOT just an in person event with a camera in the back for the online people. Rather, we have designed an engaging experience where the online attendee is the primary focus! Yes that is correct! You who are watching are just as vital to the in-person attendee.