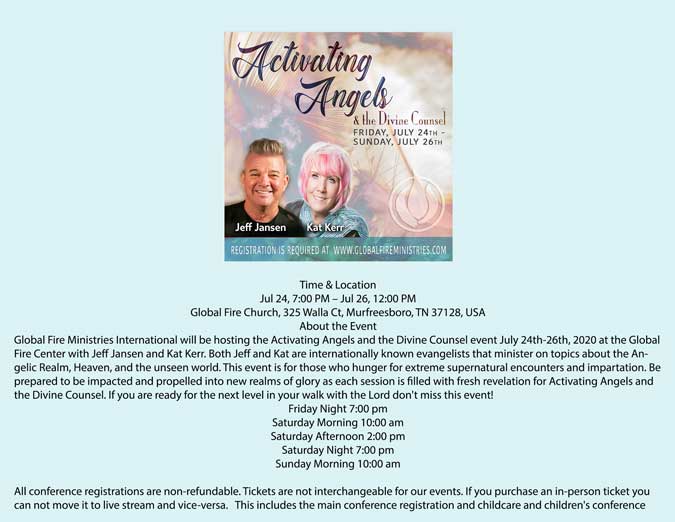 Global Fire Ministries International will be hosting the Activating Angels and the Divine Counsel event July 24th-26th, 2020 at the Global Fire Center with Jeff Jansen and Kat Kerr. Both Jeff and Kat are internationally known evangelists that minister on topics about the Angelic Realm, Heaven, and the unseen world. This event is for those who hunger for extreme supernatural encounters and impartation. Be prepared to be impacted and propelled into new realms of glory as each session is filled with fresh revelation for Activating Angels and the Divine Counsel. If you are ready for the next level in your walk with the Lord don't miss this event!
REGISTRATION IS REQUIRED FOR THIS EVENT – (See options below)
General Meetings times:

Fri – 7 pm

Sat – 10am  2pm  7pm

Sun – 10 am
Child Care
Please see the options for child care at the registration site.  Detailed  price and info are available there.
All conference registrations are non-refundable. Tickets are not interchangeable for our events. If you purchase an in-person ticket you can not move it to live stream and vice-versa. This includes the main conference registration and childcare and children's conference registration. Thank you for your understanding.