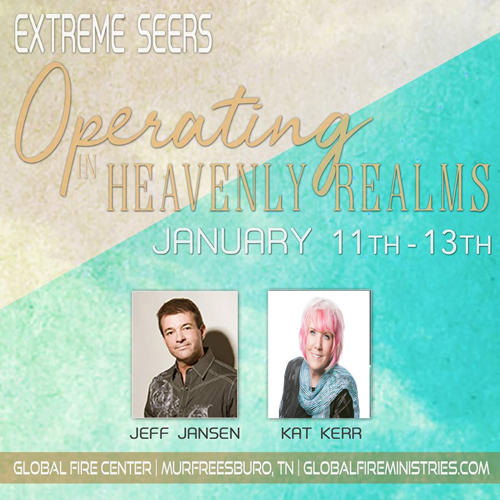 http://www.globalfireministries.com/events/view/958-CRAVE-Jeff-Jansen-Kat-Kerr-Extreme-Seers-Operating-in-Heavenly-Realms
Extreme Seers event January 11-13 in Murfreesboro Tennessee. Speakers are: Jeff Jansen, Kat Kerr

Worship: Global Fire Band.
January 11th-13th, 2019 for the Extreme Seers: Operating in Heavenly Realms event with Jeff Jansen and Kat Kerr at the Global Fire Center, in Murfreesboro, TN. This event is designed to activate fresh prophetic insight and revelation in you and impart a working miracle realm in the Glory. If you are looking for a specific word from the Lord or need a miracle, then make plans to be with us. This event is guaranteed to bring you into new levels in the Glory and Prophetic.
REGISTRATION IS REQUIRED FOR THIS EVENT
General Meetings times: (we do not know when Kat will be speaking – see event website for details)

Fri – 7 pm
Sat – 10am  2pm  7pm
Sun – 10 am
Child Care
CHILD CARE IS AVAILABLE for morning and evening sessions for children 6 months to 2nd grade. Child care workers will be assigned based on the number of registrations to assure proper care. Children must be registered in advance. NO EXCEPTIONS AT THE DOOR.
Childcare is available during the following times:
9:45am-12:15pm & 6:45pm-10:30pm
$25 for one child
$45 for two children
$60 for three or more children
(children must be from the same immediate family)
All conference registrations are non-refundable. This includes the main conference registration and childcare and children's conference registration.