Heaven's Invitation July 14 – 16 2016 | Atlantic Beach Florida
July 14, 2016 @ 6:00 pm

-

July 16, 2016 @ 5:00 pm

EDT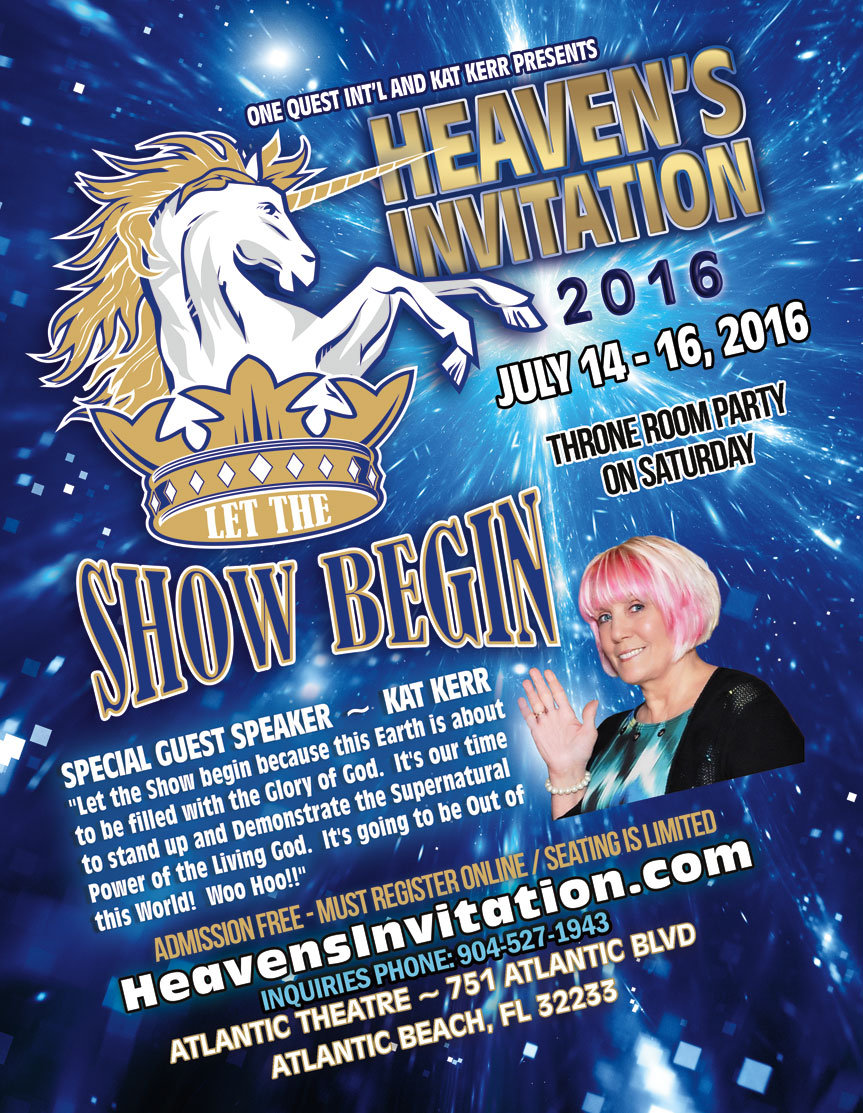 PLEASE SIGN UP FOR WORKSHOP SESSIONS IN ADDITION TO GENERAL ADMISSION: (in EventBrite HERE for free tickets)
Event Speaker: Kat Kerr
Worship music by: All Things Restored
(Please note: Doors will open 1hr before each meeting)
Registration 5:30pm
Thursday night: 
Worship Soaking (Optional) 6pm
7:00 – 9:30 pm
Friday night:
Worship Soaking (Optional) 6pm
7:00 – 9:30 pm

Saturday afternoon:  3:00 – 5:00 pm (Includes Throne Room Party)

Workshops: Host I.D. with Kat Kerr, How to become a self published author with Rene Compton, Xulon Press, Benefits of Essential Oils with Virginia Killingsworth, Women's lunch with Kat Kerr
Special Event (Must be pre-registered and prepaid):
Women's Lunch With Kat at Ellen's Kitchen

Friday 2:00 – 3:00pm
$12 Registration Required
seating for lunch limited to the first 100 reservations
Call the office for lunch registration and menu selection at 904-527-1943
or 904-423-0397
T-Shirts: NO LONGER AVAILABLE FOR ORDERING-SOLD OUT
General Admission + Tshirt
T-SHIRT-SOLD OUT WITH FREE HEAVEN'S INVITATION ADMISSION – CLICK HERE
T-shirt SOLD OUT (available in combination with admission ticket only, not on it's own)
Available sizes while they last:
Mens: M, X-Large and XXLarge
Ladies:  M, X-Large, XX-Large, XXX-L and XXXX-Large.
Sizes run a little small so they may want to go up a size when ordering.
Pickup at Event only, sorry no shipping avail.
T-shirt Sample mockup (colour and style may change, sample will look different colour depending on your device's visual settings):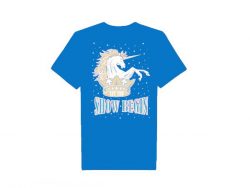 PLEASE SIGN UP FOR WORKSHOP SESSIONS, T-SHIRTS, SPECIAL EVENTS (LUNCH)  IN ADDITION TO GENERAL ADMISSION: (in EventBrite HERE)
Hotel & Accommodation Information:
Holiday Inn Express Jacksonville Beach
1101 Beach Blvd.Jacksonville Beach, FL  32250
904-435-3000 (mention Heaven's Invitation for group rate)
Save
Save
Save
Save
Calendar powered by The Events Calendar