Heaven's Invitation June 14-16 2018 | Jacksonville Florida
June 14, 2018 @ 6:00 pm

-

June 16, 2018 @ 5:00 pm

EDT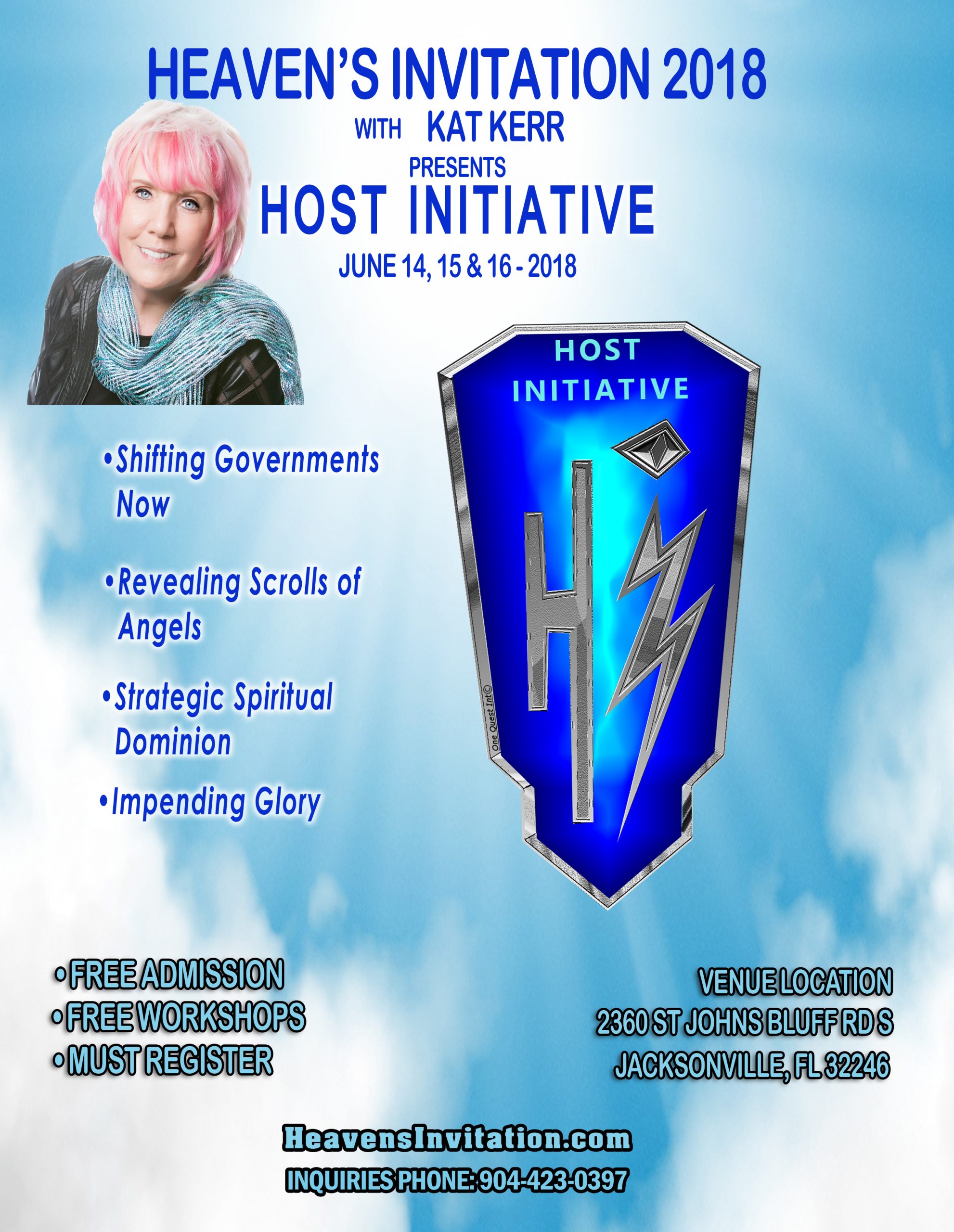 PLEASE SIGN UP FOR WORKSHOP SESSIONS IN ADDITION TO GENERAL ADMISSION: (in EventBrite HERE for free tickets) – BEFORE 4:30 PM EST JUNE 13 2018 –   call 904-423-0397 if any questions 

---
Registration is per person
Groups are most welcome, but each person is asked to register individually.

HOST INITIATIVE
Event Speaker: Kat Kerr
Worship music by: All Things Restored
(Please note: Doors will open 1 hr before each meeting/product sales available 1 hr before each meeting and 30 minutes after each meeting on Thursday and Friday.  Sat product sales 1/2 hr after last meeting.)
---
REGISTRATION sign-in times:
THURSDAY Doors open 5:00 pm / Registration sign-in: 5:00 – 6:00 PM
FRIDAY Doors open 5:00 pm / Registration sign-in: 5:00 – 6:00 PM
SATURDAY Doors open 2:30 pm / Registration sign-in: 2:30 – 3:00 PM
MEETING times:
THURSDAY and FRIDAY evening meetings:
Soaking Worship 6:00 PM
Welcome 7:00 -7:15 pm
Worship 7:15 – 8:00 pm
Kat speaks 8:00 – 9:30 PM
SATURDAY: 3:00 – 5:00 PM, includes  Throne Room Party
---
Workshops: All workshops are free but each person must register to attend – Sign up in EventBrite HERE
Host I.D. Workshops with Kat Kerr
Saturday:  12:00 pm – 1:00 pm (Both workshops are now combined to only one)  Part I & II  
---
Author-Self Publishing Workshop – Note – We must have at least 20 people register for this workshop or it will be cancelled.  If registering, please ensure that you attend as the people presenting the workshop will be traveling from out of town and we want to be considerate of their time and effort to provide this valuable information.
How to become a self-published author with Gina Fleming, Xulon Press  – The first 10 people to register will receive complimentary coaching the day of the workshop while on-site.  Bring your manuscripts,  whether complete or not, to use for coaching session.  Kat will also share her experience as a self-published author.
Saturday: 11:30 AM – 1:00 PM
---
Essential Oils Workshop 
Benefits of Essential Oils with Virginia Killingsworth
Virginia brings a wealth of knowledge and information concerning essential oils. Very informative!
Friday: 10:30 am – 11:30 am
---
Art Workshop
Basic Prophetic Art – with Christian "Chris" Gould
Friday : 12:00pm – 1:30pm
Come and receive information on  basic techniques using Pencil/Eraser and Cray-pas.  Supplies will be provided.
---
Hotel Information – Rates are available for a short time so please book asap to get the discounted rates.
Marble Waters Hotel & Suites 
45 Kernan Boulevard, N.
Jacksonville, FL  32225
904-337-1700
Standard King Room:  $99.00 plus tax per night
Standard Double Room:  $110.00 plus tax per night
To get DISCOUNTED rates CALL 904-337-1700 and ask for "Heavens Invitation Rate"
---
The Hilton Garden Inn and the Springhill Suites will  offer attendees 10% off of their Best Available Rate at time of Booking.
Book Now to secure this ​discount​. This ​discount is based on space and rate availability
The current Social Link rates are as follows: (must use the links below to book to get the discounted rate)
                            -OR-

SpringHill Suites Jacksonville
​Click here to book your stay at the SpringHill Suites Jacksonville
Check in Date: 06/14/2017
Check out Date: 06/16/2017
-Complimentary Wireless Internet Access throughout the hotel
-Complimentary Parking
-Complimentary use of our Fitness Facility and Outdoor Pool
-Easy access to nearby attractions
-Complimentary breakfast buffet each morning
---
Hampton Inn & Suites, South-Jacksonville Deerwood Park 
4415 Southside Blvd.
Jacksonville, FL 32216
904-997-9100
The current Social Link rates are as follows: (must use the link to book to get the rate)
 Click her to reserve your discounted room
-Double Queen – $109.00 plus tax per night
Check in Date: 06/14/2017
Check out Date: 06/16/2017
-Complimentary Wireless Internet Access throughout the hotel
-Complimentary Parking
-Complimentary use of our Fitness Facility and Outdoor Pool
-Easy access to nearby attractions
-Complimentary breakfast buffet each morning
---
Save
Save
Save
Save
Save