Greek Isles Cruise Kat Kerr | CANCELLED ENTIRELY FOR 2020
August 30, 2020

-

September 1, 2020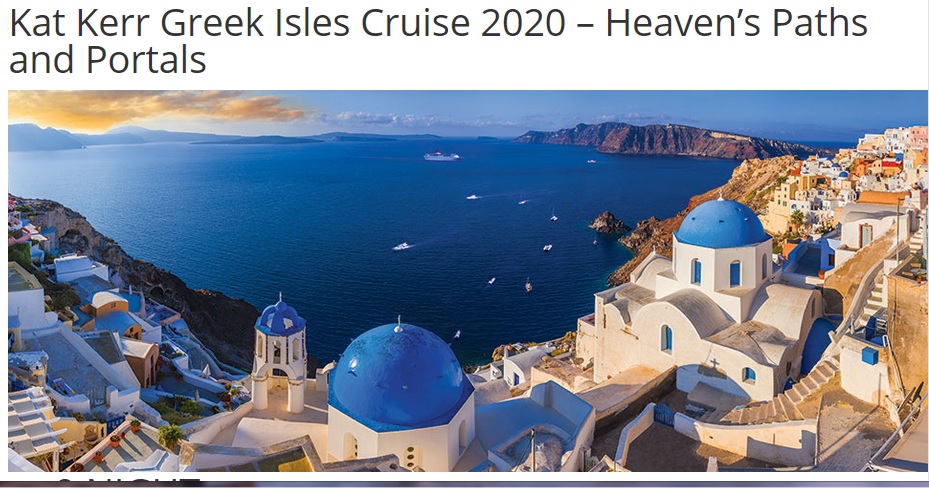 Heaven's Paths and Portals – Kat Kerr 2020 Cruise Cancelled entirely for 2020
The following notice was just received from Pastor Sharon advising the Greek Isles Cruise has been formally cancelled for 2020.  The information below will explain the reasons for cancellation.  We look forward to being with you on a future cruise in 2021.  Grace and peace to all!
To Our Cruisers, (from Pastor Sharon with Heavenly Cruises)
This is a time in history that I know none of us could have ever foreseen or imagined in its depth and breadth of impact. We all have been through an incredible ordeal. I imagine some of you have had some extraordinary circumstances that God has no doubt seen you through in unexpected and miraculous ways.
We have prayerfully waited on God to guide us in all of our upcoming cruises. It's been a time for us to rely on faith and favor as we have watched the world change before our eyes. Life as we know it has systematically shutdown as war is waged on this virus. It has been a journey that none of us have previously experienced.
The cruise industry is simply one facet in travel that we have to coordinate to make our conferences possible. Airline flights, bus transportation, and hotel reservations are just as important to make a successful cruise conference. Ordinarily, it's a challenge that we joyfully and prayerfully take on. During this time, the delicate balance of all these industries have been upset by fear of the pandemic and there is no protocol set for such a situation. With this in mind, I ask for your understanding and grace as we work diligently to keep you informed.
That brings me to my purpose in writing you today. I was just made aware of some news that will unfortunately affect all of us in our upcoming international travels. Due to Covid-19, the airline industry has formally cancelled our U.S. flights from Newark to Rome and most if not all International flights to and from the U.S. Take a deep breath!! As you can imagine, I was in shock when United told me that all international flights were cancelled until 2021. For those of you who have purchased your own international flights from the U.S or domestic flights to Newark, please cancel those flights as soon as possible.
In light of this new information, if you have purchased group flights from Newark to Rome through Heavenly Cruises, I want you to know that we are working on your refunds. This will take up to 45 days to process; please know that there will be a small 4% non-refundable credit card fee.
As for the cruise cancellation, Royal Caribbean has been very accommodating to all our needs that are far beyond their normal policies. Due to the fact that our international flights were cancelled, Royal Caribbean has decided to give our group a full refund. This truly is unprecedented. Royal Caribbean has informed me that the refund process will take up to 45 days. If the card(s) you used for your monthly cruise payments is no longer valid, please email or call to get more details.
In the wake of all this information coming to light in the last 24 hours, we do not yet have information on the cancellation status of our Newark/Rome hotels and tour packages. Please pray for the Lord's favor for a peaceful and timely recovery of refunds that we are pursuing for each and every one of you.
Aside from logistics, even though this is all very disappointing, we pray God will speak peace and encouragement to you in these very uncertain times. As more updates become available, we will keep you informed. Please check the Heavenly Cruises website (heavenlycruises.com) for 2021 cruises, which will be updated soon.
Heavenly Cruises Kat Kerr Greek Isles cancelled 2020